World Wildlife Day
Species protection | 3 March 2022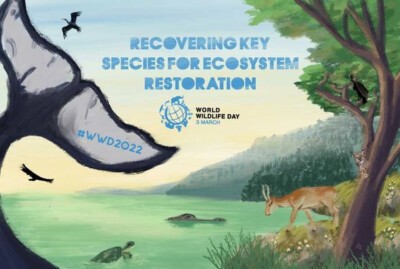 The Convention on International Trade in Endangered Species of Wild Fauna and Flora, or CITES for short, was signed on 3 March 1973. Most people probably know it as the Washington Convention, named after the city where it was signed, and since ratified by 183 nations. In 2013, on the 40th anniversary of the Convention, it was announced that 3 March would henceforward be World Wildlife Day, a day when events and initiatives around the world could shine a spotlight on endangered animals and plants.
This year, the motto is "Recovering key species for ecosystem restoration".
Zoos too play a decisive role in conservation, and are today among the major players in protecting species around the world. In Germany alone, over 45 million people every year visit zoos belonging to the Association of Zoological Gardens (source: Verband der Zoologischen Gärten, 2019). No other entity involved in nature and species conservation has such a broad audience for raising awareness about the topic. We want to harness this support and encouragement from the public, and play our part in putting a halt to species extinction around the world.
In addition to education work, this also involves specific measures such as intervening to build genetically healthy populations of endangered wild animals. These populations serve several purposes: they are ambassadors for their species and are many people's first link with species protection through the experience of visiting a zoo. Secondly, animals from these groups can be used in reintroduction programmes or recovery projects, as we did in autumn 2020 with two of our griffon vulture offspring.
Zoos can also connect the public with NGOs and projects working in nature and species conservation, where there might otherwise be little awareness of the field. In addition, zoos support these partners logistically, financially, and in terms of human resources. Increasing numbers of zoos have started to introduce a Conservation Euro, which is a voluntary contribution that visitors can donate with their entrance fee. The money from visitor donations and contributions goes towards species conservation. So, for example, last year, despite the coronavirus pandemic, we were able to send EUR 250,000 to different projects and partners – money urgently needed by many of these projects in difficult pandemic times.
Besides the Big Life Foundation (BLF) in the border region between Kenya and Tanzania, the Zoologische Gesellschaft Frankfurt (ZGF) which operates in the Bukit Tigapuluh National Park on Sumatra, and the Snow Leopard Trust (SLT) in Central Asia, one of our major projects is Sphenisco e.V., which we are supporting with the income from the Conservation Euro. Zoo Dresden has been backing this association dedicated to the protection of the Humboldt penguin and its habitats on the western coast of South America since 2005, making us one of its oldest supporters. Over the last three years, we have been able to support the association with a total of EUR 80,000 thanks to the Conservation Euro. These contributions give the association financial security, enabling it to make long-term plans. Money from Dresden has thus gone into setting up three research projects aimed at finding out more about the biology and the populations of Humboldt penguins on the Chilean coast over the coming years. Researchers from Chile and New Zealand will be involved.
Every single one of the species protection projects that we support is linked to a species that lives at Dresden Zoo. This means that not only can we report transparently on developments and conservation efforts in the field projects, but we can also raise awareness among our visitors about the needs of these animals. Things are looking good on the breeding front with our Humboldt penguins this year – the first pair has already retreated to its nesting hole and is sitting on two eggs. We're keeping our fingers crossed for successful breeding and rearing, and will keep you all updated with how things progress.