Tips for your visit
Our Zoo covers an area of around 13 hectares and offers visitors of all ages a fun, relaxing and truly wild day out. Whether you are visiting the zoo alone, with the family or in a group, your day is sure to be fun-filled and full of adventure. The zoo is home to over 1,070 animals living in modern enclosures that are designed to provide as natural a habitat as possible.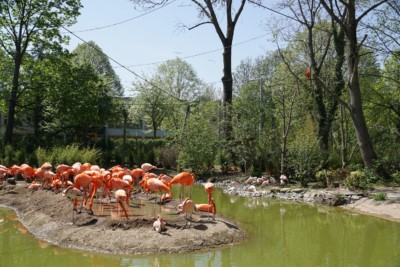 A particular highlight is the walk-in flamingo aviary, which was newly built in 2020. Experience the thrill of standing among our red flamingos, scarlet ibises and roseate spoonbills. The walk-in tundra aviary as well as the ring-tailed lemur island, which is open in the summer months, also allow you to experience the animals up close. Our five animal houses offer exciting discoveries in all weathers for young and old alike. We particularly recommend a visit to the Prof. Brandes House, where you will not only see our koalas, but also a wide variety of critically endangered species such as woolly monkeys, crowned lemurs and our false gharial. You will also meet our sloths as they roam freely above visitors' heads, as well as the guerezas which feature on the zoo's logo. We also recommend taking a look inside the Africa House, which was reopened in 2018. In addition to our African elephants and mandrills, here you can also visit our naked mole-rats, which, aside from having many unique characteristics, are also rarely seen in zoos.
A new species also joined our collection in 2021: bat-eared foxes have moved in between the ponies and dwarf forest buffalo. The enclosure was reconfigured and modernised for their arrival. Thanks to a newly installed viewing window, these African wild foxes are now also easily visible for children.
You can find more information about our animals and enclosures here: Go to zoo tour
General information
Dogs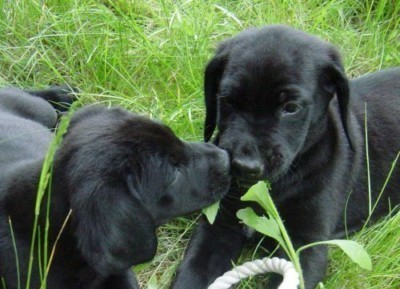 Dogs are not permitted inside the Zoo. The smell of dogs can cause many zoo animals distress, as dogs are one of their predators. Some visitors, especially children, are also wary of dogs.
Assistance dogs are excluded from this rule (provided that an ID card can be produced and the dog is clearly identifiable as an assistance dog, for example with a yellow jacket or a clearly marked harness).
Baggage storage
Lockers are available in the foyer for small items of baggage (e.g. tote bags, handbags). You can hire a key at our information desk for 1.00 euro (plus a 10 euro deposit). Individual suitcases can be deposited at our information desk free of charge.
Unfortunately it is not possible to reserve baggage storage in advance.
For young visitors
Kiddie transport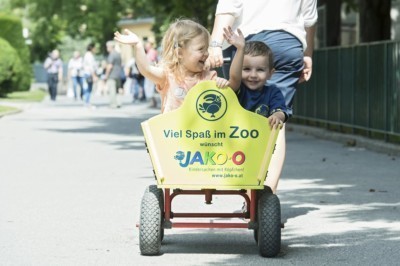 You can hire a handcart for 2.00 euros at our ticket office so that you can enjoy a fun and relaxing stroll through the zoo. For a 20 euro deposit, you can obtain a special chip at our ticket office which allows you to release the handcarts. Handcarts cannot be reserved in advance.
Please note that balance bikes, skateboards, scooters, throw toys and balloons are not permitted inside the Zoo. Please leave recreational mobility devices in the car or lock them up outside.
Playgrounds & Zoo Kasper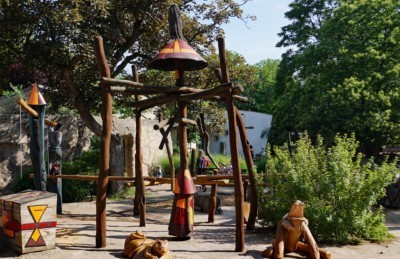 Our young visitors can enjoy lots of playgrounds for running about, climbing and swinging, as well as the exciting performances of our zoo's very own puppet Kasper (free of charge).
Baby changing facilities
Baby changing tables are available in the sanitary facilities at the entrance and exit, as well as at the Penguin Café. Nappies are also supplied free of charge by our partner "dm-Drogeriemarkt".
Breastfeeding
If you would like a more secluded place to breastfeed, there is seating available on the first floor of the foyer. Simply take the stairs located next to the information desk. There is also a visitor-accessible island next to the main entrance of the Prof. Brandes house, which is densely planted and therefore affords greater privacy. It is also usually quieter in the rosarium and on the upper floor of the Giraffe House
Enclosures and facilities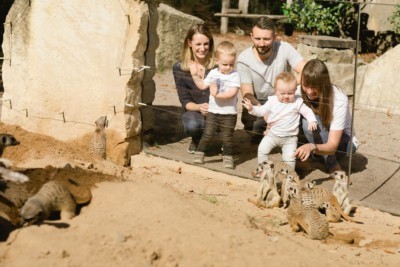 We give especially high priority to visibility for visitors of all ages in our enclosure design. Full-length windows, special views and hidden paths for children encourage their curiosity and make exploration fun.
FAQs
Are dogs permitted inside the Zoo?
Dogs are not permitted inside the Zoo. No accommodation is provided for them. The smell of dogs can cause many zoo animals distress, as dogs are one of their predators. Some visitors, especially children, are also wary of dogs. Assistance dogs belonging to visitors who are physically or mentally disabled are excluded from this rule.
What should I do if my child goes missing?
If you cannot find your child, please approach a member of staff or inform the ticket office (
+49351- 4780 610
). The entrance staff will help you look for them. Wristbands by our partner Gutmarkiert are also available from our ticket office. You can write your telephone number and child's name on these. With older children, you can arrange a fixed meeting point before your visit.
I have lost something. What should I do?
If you have lost something valuable, or if you have found something that you would like to hand in, you can approach our staff at the ticket office. The staff hold lost property in safekeeping. This is also where you have the best chance of retrieving your lost valuables. You can contact our ticket office during Zoo opening hours on
+49351 - 4780 610
.
Is admission free for children on their birthdays?
Admission to the Zoo is free for children between the ages of 3 and 16 on their birthdays. There is no need to give prior notice. Simply show an ID card or any other form of certification bearing the child's date of birth to our ticket office staff and we will treat you to a very special birthday in our Zoo.
Discover more

Wild news
Whether it's new arrivals of baby animals, reports on our involvement in species conservation, or new ...
Wild news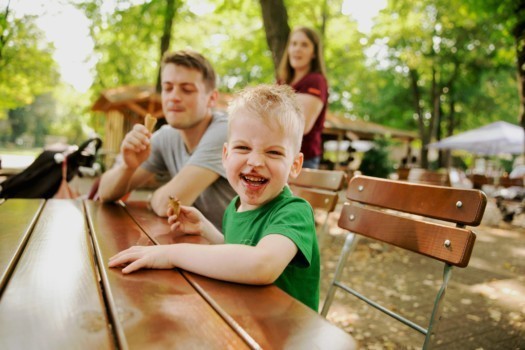 Catering & Zoo shop
Our catering partners are spread throughout the zoo and offer a wide range of hot food, snacks and ...
Catering & Zoo shop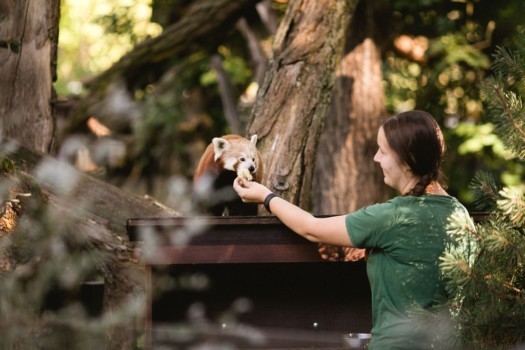 Hangouts & Feeding times
At our animal keeper hangouts, you have the opportunity to get to know our animal keepers and their ...
Hangouts & Feeding times