About us
Dresden Zoo is one of the oldest zoos in Germany, as well as one of the region's most popular leisure destinations. It is home to around 1,070 animals - representing over 204 species - in modern enclosures that are designed to provide as natural a habitat as possible. No two visits are the same, and our Zoo offers exciting animal encounters and experiences for all generations of visitors. Take a stroll among our red flamingos, scarlet ibises and roseate spoonbills in the walk-in flamingo aviary, watch our Humboldt penguins as they dive and swim, and discover animals that are normally hidden from view in The Underground Zoo. Our five animal houses guarantee exciting and fun-filled experiences, even in bad weather, and in the summer our lush, mature trees provide plenty of shady spots to relax in.
As you embark on your journey through our wild animal kingdom, you will also discover traces of our long, dynamic history throughout the zoo. The zoo's appearance is therefore characterised by a mixture of contemporary animal houses and facilities combined with historic buildings and a mature tree stock.
Africa House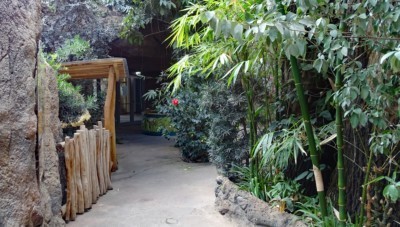 Visitors can enter the Africa House directly from the entrance area. Reopened in 2018, the Africa House features a 4m-high viewing platform which offers visitors the best view of the modern and expansive indoor enclosure of our four elephants. Directly opposite, you can observe our mandrills through large panoramic windows. The enclosure not only offers these rainforest dwellers ample facilities for climbing and retreat, it also offers visitors the chance to experience the animals right up close. In addition to our African elephants and mandrill group, here you can also visit our naked mole-rats, which, aside from having many unique characteristics, are also rarely seen in zoos.
Prof. Brandes House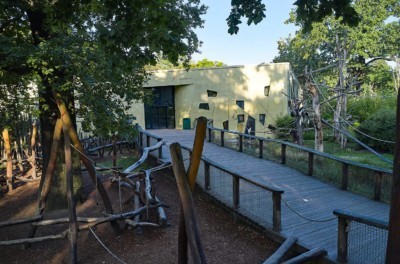 The Prof. Brandes House is not only home to our koalas, but also a wide variety of monkey species, such as lion-tailed macaques, emperor tamarins and guerezas, which also feature on the zoo's logo. The critically endangered crowned lemurs and woolly monkeys, which are rarely displayed in zoos, also live here in appropriate enclosures. In the tropical area, our sloths are free to roam above visitors' heads. Here visitors can also see our false gharial and various insect species.
Walk-in aviaries
The netted aviary for our red flamingos, scarlet ibises and roseate spoonbills was newly built in 2020 and covers a total area of 1,550 square metres. Visitors can enjoy a relaxed stroll through the enclosure across three bridges, and are therefore free to observe the birds unimpeded by barriers. In the centre of this water landscape, there is a large island which offers plenty of sunshine as well as good breeding conditions for the flamingos. There is also a separate feeding pond.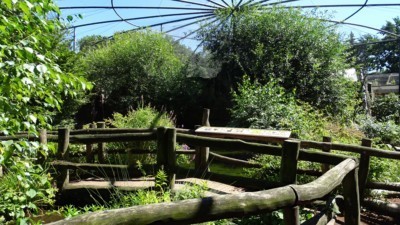 Another walk-in aviary is the tundra aviary, where visitors can observe various waders such as ringed plovers, sandpipers and common redshanks. Our zoo is home to a variety and number of European and native small birds rarely found in other zoos.
A zoo packed with history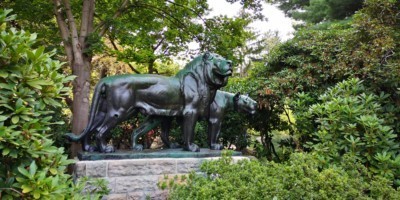 Alongside modern facilities and enclosures, the traces of our Zoo's long history can be seen right across the site. Historic buildings and statues provide numerous reminders of the Zoo's dynamic history. The goat house, which dates back to 1862, is the oldest building in the Zoo and still serves as the winter residence for our hoofed mountain animals to this day. Another particularly prominent feature are the predator cliffs built in the 1910s, which offer visitors a good view of the elephant and lion enclosure as well as the visitor-accessible ring-tailed lemur island. Statues located throughout the Zoo also act as reminders of important events and eras.
discover more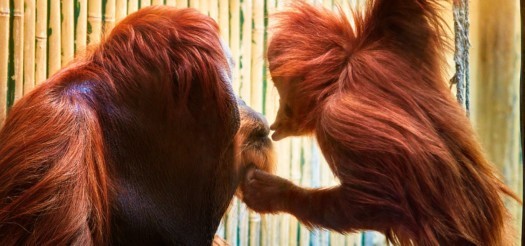 Donations
We present a project that's very close to our hearts and share all the details on the progress of the ...
Donations

Wild news
Whether it's new arrivals of baby animals, reports on our involvement in species conservation, or new ...
Wild news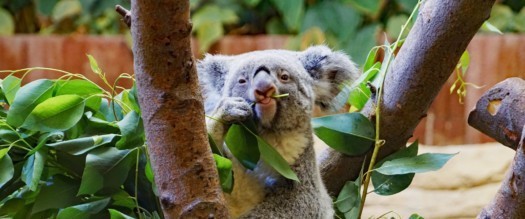 Our animals
Dresden Zoo is home to around 1,400 animals representing 243 species. In addition to visitor favourites ...
Our animals