Conservation Euro helps animals in eastern Erzgebirge
Campaigns | 24 March 2021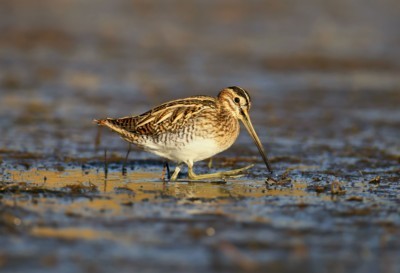 Since reopening on 15 March, lots of visitors have paid the voluntary Conservation Euro – raising just over EUR 1,000 for the field projects we support. One of these is the Mountain Meadows project in the eastern Erzgebirge. Among other things, this project renaturalises areas in this mountainous region, with the aim of providing endangered species with a bigger habitat. The project has now sent us a video that was recorded last year next to a small body of water at the Mittelwiesenbach in Fürstenau. A wildlife camera was set up at this spot to document the life of a pair of common snipes and any other visitors. The area restored using donations from the zoo is located just above this wetland meadow.
Click here to view the five-minute video
+++ Interesting info+++
The common snipe is a type of sandpiper that is native to the area. Roughly the size of a thrush, it has a comparatively long beak and breeds in wetland meadows. The common snipe is a strictly protected species in Germany. Recordings made in this area will therefore demonstrate just how important it is to restore and rewet these local mountain meadows.