Terrarium remains open until 31 October
Campaigns | 20 October 2022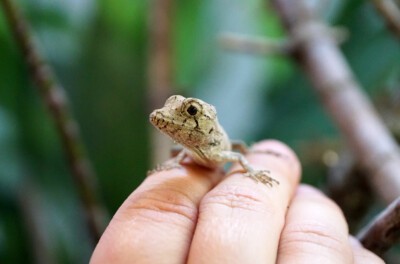 Come and visit our terrarium one last time. This autumn holiday is your last chance to see the animals in our terrarium. We particularly recommend the Thursday hangout this autumn holiday: Next Thursday (27 Oct), 11:00 am, our Cuban false chameleons will take centre stage. Eight youngsters hatched in our zoo this year, and you'll be able to observe them up close at the hangout.
From 1 November 2022, however, our terrarium will be permanently closed. The building was originally due to close once the new orangutan house had opened. However, we have been obliged to close early due to the enormous cost of heating our dilapidated animal house. Sadly, we cannot keep running a building that guzzles so much energy at that price until the planned closure date, particularly in these times of very high prices for everyone.
We are comforted by the fact that some of the reptiles from the terrarium will be staying with us, as they are moving into the new orangutan house. The species that cannot remain with us at the zoo will be given to other homes.