Happy Birthday Toni
Animal news | 13 December 2021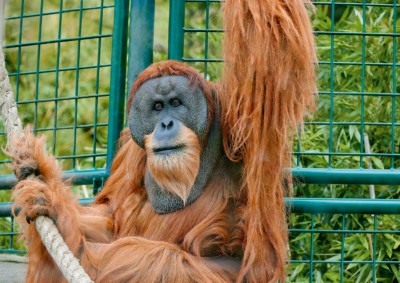 One thing is clear: he's the boss. Toni reminds us of this every time we let him into his enclosure and he senses that something has changed. Calling loudly and banging on the windows, he shows who's in charge. Like this morning, for instance. The reason for the excitement today was a sugar-free cheesecake with a polenta base. It was baked by his keeper Sylvia Pohle the day before and lovingly decorated with blueberries and bananas. He doesn't often get tasty treats like this, but today is Toni's 30th birthday.
Toni was born on 13 December in Budapest Zoo. Following the death of his mother, he was raised there by humans – which explains the great interest he has always shown in visitors. He came to Dresden Zoo at just under two years of age and has been looked after by Sylvia Pohle ever since. She recalls: "When Toni arrived he was wearing nappies and still being partly bottle-fed. So first of all we had to teach him how to be a monkey." The first thing to do was to get Toni out of nappies and on to solid food. Only then could he finally be introduced to the other monkeys.
The two females, Daisy and Dunja, who were the same age as Toni, made ideal playmates for him. And Daisy later became a suitable partner. In 2003, Toni had his first baby with her, Djasinga. Toni is now a father of four. He currently lives in a family enclosure with Daisy and Dalai, who was born in 2015.
Having made a boisterous entrance to his enclosure, he turned his attention to his present – very carefully and delicately. He began by picking off the blueberries, then the bananas. He licked off the cream cheese topping, preferring not to get his hands messy, and he also ate the polenta base just with his mouth. And within a quarter of an hour, almost the entire cake had vanished.
The next milestone in Toni's life is already approaching. In late 2023, he and the other orang-utans are due to move into the newly built orang-utan house. The most interesting aspect of this for Toni will be the increased height, as he will be able to pick out the best vantage points for indulging in his favourite pastime: watching visitors.
If you would like to support the construction of the orang-utan house, we would be delighted to receive your donation. You can find more information about the fundraising campaign under Donations.