New arrival in the mandrill troop
Animal news | 13 July 2021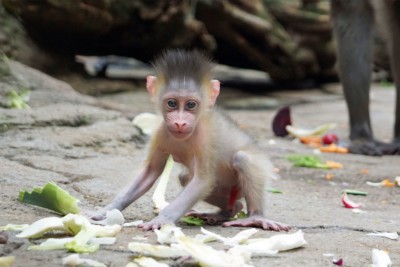 May we introduce Dajan, our new baby mandrill, who is the son of our female Uzuri? He was born on 16 May and is already boldly exploring the world on his own two feet. Mum Uzuri is devoted to Dajan and is allowing him a little bit of freedom, which is not nearly enough to satisfy his sense of adventure.
Infant mandrills suckle for around half a year; during this time, Dajan's interest in solid food will constantly increase, so his diet will gradually change. The mandrills' menu features plenty of vegetables, a small amount of fruit, insects, meat, other animal products and seeds, which provide a really good activity for the apes.
Mandrills are amongst the most gloriously colourful mammals in the animal kingdom. The intensity of the vivid colouring on their faces and buttocks varies depending on their status within the troop. Mandrills also exhibit a high degree of sexual dimorphism in terms of height, weight and colouring. Males can be over three times heavier than females. It will be a few years yet, though, before little Dajan is fully grown.