Introducing a Conservation Euro at Dresden Zoo
Animal news | 18 January 2019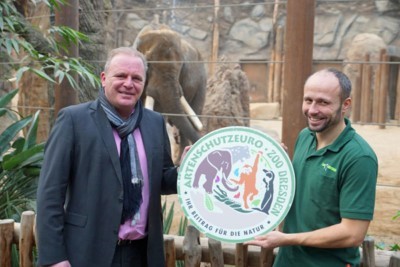 Nature and species conservation are crucial aspects of the modern age, and they are of global significance for society. Zoos today consider them amongst their key tasks alongside research, recreation and leisure.
This is reflected on the one hand in zoos keeping and rearing animals in appropriate conditions. On the other hand, zoos also support non-profit organisations across the globe, which are committed to the protection of wild animal populations and their natural habitats. Dresden Zoo's introduction of a voluntary Conservation Euro, which is added to the regular admission price, strives to bolster its commitment to and engagement with this area going forwards.
As of 18 December, the Conservation Euro ‒ 1 EUR per individual ticket and 3 EUR per group ticket (family day tickets and all annual tickets) ‒ will in principle be included in admission prices. Nursery and school groups are excluded. All visitors can decide whether they wish to pay the Conservation Euro.
100 % of the money collected through this initiative will go to nature conservation projects around the world, in order to counteract the destruction of nature and biodiversity loss. In addition to projects given financial support by Dresden Zoo in the past, further projects have been identified for which the zoo inhabitants can serve as ambassadors. This includes, for example, the Bukit Tigapuluh project to protect the orangutan and its habitat in Sumatra and the Big Life Foundation in East Africa, which works to safeguard big animals such as elephants, lions and cheetahs. The Mountain Pasture project in the eastern Erzgebirge region has also been selected as a large-scale local conservation project that it is hoped many Zoo visitors will identify with.
For more information on the projects benefiting from the scheme, please visit:
www.biglife.org
www.fzs.org
www.snowleopard.org
www.4vultures.org
www.bergwiesen-osterzgebirge.de
www.zgap.de
www.sphenisco.org
www.tomistomablog.wordpress.com