Beastly fun – Zoo tram goes on maiden voyage
Bauprojekte | 25 January 2023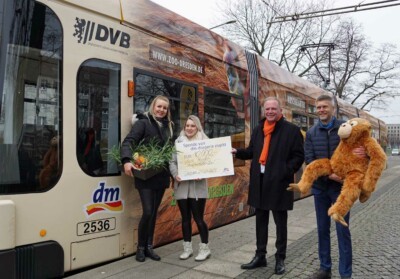 Following on from the "In echt ganz anders" ("Something different in the flesh") tram, in which made-up animals "borrowed" their fur and plumage from other creatures, Dresden Zoo has now turned to real animal motifs for the redesign of the Zoo tram. The five orangutans living at Dresden Zoo – Toni, Daisy, Dalai, Djudi and Djaka – invite Dresden locals and their guests on a charming, entertaining trip through the state capital. Passengers can decide whether they would rather sit in the play, swing or cuddle compartment with these visitor favourites.
The redesigned tram represents the continuation of a partnership between Dresden Zoo and the Dresden Transport Authority (DVB) that has now been going for almost 20 years. On 27 January 2004, the "Giraffe Tram" took its first ride, intended to get the people of Dresden excited about the planned construction of a new giraffe enclosure and encourage them to donate. This time round, our five likeable great apes are out and about in the city as ambassadors for the latest passion project "A new home for our orangutans". That said, the new Zoo tram is not only intended to promote the large-scale construction project – it also serves as a thank-you to all donors and supporters. More than €1.5 million in donations has already been raised for the Orangutan House, a clear sign that the new building is genuinely close to the hearts of many people. Pharmacy chain dm is also one of its supporters. Branch managers Marina Plewan and Patricia Brückner presented a donation cheque of €10,000 to zoo director Karl-Heinz Ukena on the tram's maiden voyage. For DVB board member Lars Seiffert too, orangutans are to Dresden Zoo what yellow is to Dresden's public transport companies. Following its long-standing sponsorship of lioness Layla, the transport company is now also taking on sponsorship of the new Orangutan Tram. Lars Seiffert wants to see happy tram travels, a nice home for the popular apes and, above all, plenty of visitors to the Zoo.
The Orangutan House is scheduled to open as early as November 2023, for both animals and humans. Toni and friends will of course also be seen on the streets of Dresden to whet people's appetites for a visit to the Zoo.