150,000 Euros for the Zoo Animal of the Year 2021
Campaigns | 7 January 2022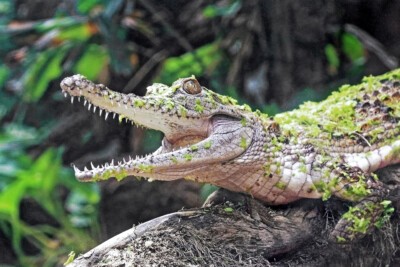 The crocodile was named Zoo Animal of the Year in 2021, raising a total of 150,000 Euros. Here at Dresden Zoo we have Australian freshwater crocodiles, and a false gharial, so we were delighted to support the campaign. We contributed a total of 2,500 Euros from the money raised by the Conservation Euro to this campaign, which was initiated by the Zoological Society for the Conservation of Species and Populations (ZGAP).
The funds raised are now being channelled into effective conservation measures to protect severely endangered crocodile species in Cuba, the Philippines, Borneo and Nepal. Many crocodile species are considered endangered, with six species even classified as critically endangered by the International Union for Conservation of Nature (IUCN). These include the Philippine crocodile. In the Philippines, only a few genetically tested animals from this severely endangered species remain, living in breeding centres. This makes the European zoo population especially valuable for species preservation, as true-breeding animals are a fundamental prerequisite for reintroduction. The animals are costly and complicated to keep. What's more, the Philippine crocodile only reaches sexual maturity between the ages of 10 and 15, resulting in a high generation length. This means that it takes many years to establish a stable population in captivity, and for reintroduction to become possible. Since breeding efforts first began in Europe, the number of animals has increased from 15 to 51 thanks to new offspring in a number of zoos. By late December 2020, the time had finally come for two Philippine crocodile offspring from Cologne Zoo – a partner in this year's campaign – to set off back to their original homeland. Once they arrive there, they will help to establish a true-breeding population of Philippine crocodiles, with the aim of reintroducing the species to the SIPLAS nature reserve.
The financial support from the Zoo Animal of the Year campaign is being used to build new soft release facilities and an additional breeding centre within the nature reserve, which will assist with this process. There are also plans to build an environmental education centre to serve both the local population and tourists, and to introduce a sustainable tourism strategy in the region.
+++Fascinating facts+++
The Zoo Animal of the Year campaign was first launched in 2016 by the Zoological Society for the Conservation of Species and Populations (ZGAP), and is supported by institutions and members of the Deutsche Tierpark-Gesellschaft e.V. (DTG, or German Zoo Society), the Verband der Zoologischen Gärten e.V. (VdZ, Association of Zoological Gardens) and the Gemeinschaft der Zooförderer (GdZ, an association that supports and promotes zoos).