Pelican babies hatch
Animal news | 28 May 2023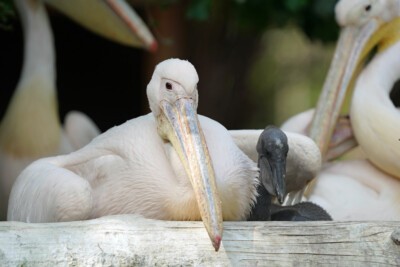 Great white pelican chicks sport dark and grey-black plumage, not bright and pink-white. This clearly distinguishes young pelicans from adults, and also makes them harder to spot under the protective belly of their parents in the nest. Even the skin on the face, the beak and the throat pouch are completely dark, gradually changing colour over the first two years.
For us, welcoming new chicks for the second year in a row is a huge success, because we have been waiting for this for decades. Great white pelicans have been living at the zoo since 1987 and although clutches of eggs have always been laid, no young birds have ever hatched. The eggs were either unfertilised, stolen by crows, or the pelicans simply never incubated them to the point of hatching.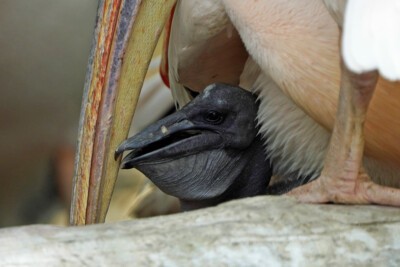 Now the penny seems to have dropped: currently two young birds from two different pairs of parents can be spotted on the breeding platform. Further offspring may yet arrive too, as some pelicans are still incubating their eggs.