New arrival for the Kirk's dik-diks
Animal news | 11 March 2022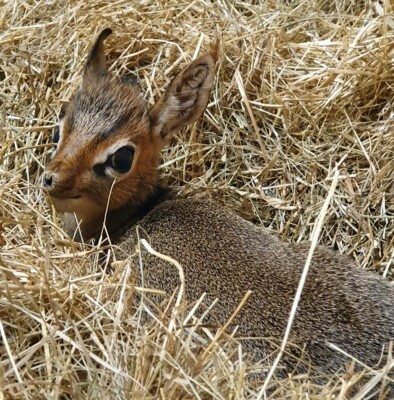 With a bit of patience and a bit of luck, our baby female Kirk's dik-dik, born on 17 February, can be glimpsed taking her first exploratory steps in the big wide world of the outdoor enclosure. Baby dik-diks remain tucked away in a protected location for the first three weeks of their life. In zoology, this behaviour is known as "hiding". As the infants don't yet have their own scent, and hardly move or make a noise, they are as good as undetectable for possible predators. The mother seeks out her baby with a 'contact cry' in order to nurse it, before leaving it alone again. Now coming up four weeks, the baby animal is strong and tenacious enough to follow its parents.
+ + + Good to know + + +
The little Kirk's dik-dik (also called Madoqua kirkii) is now the 16th offspring for this antelope species at Dresden Zoo. A new baby is born around every six months among this group. The Kirk's dik-dik bred successfully at Dresden Zoo for the first time in July 2013.