Meerkats welcome two offspring
Animal news | 28 May 2023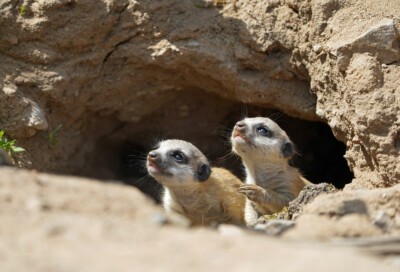 There are two new additions to our meerkat gang. The two little ones were born around four weeks ago, well protected in an underground cave in the outdoor enclosure. For a few days now, the pair of them have been venturing out more and more to explore their surroundings outside the cave. These outings are well supervised by all family members to ensure that nothing happens to the pups: dangers lurk for the little ones, for example from crows.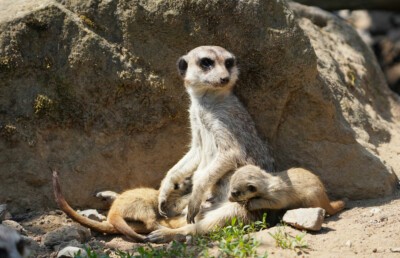 The pups' meals with mum Hilde are especially important for good growth. The young animals are still feeding only on their mother's milk, so they have to take many breaks for a drink.
Female meerkat Hilde is already a very experienced mum ‒ this current litter is her 28th.
Including the two pups, our meerkat mob currently consists of 15 members.