Koala Sydney goes on a trip to Duisburg Zoo
Animal news | 9 December 2021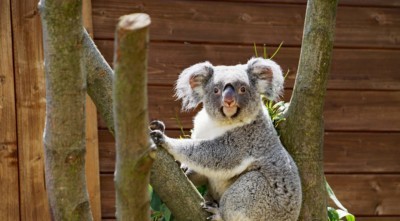 With the arrival of female koala Sydney in April 2019, Dresden Zoo moved one step closer to its goal of being able to breed this delightful species in the future. Conditions in Prof. Brandes House were good, and there were two potential breeding partners for Sydney: Iraga, born in 2011, and Mullaya, born in 2012. In principle, the chemistry between Sydney and Mullaya seemed to work, and we had some mating activity observed over the past two years. However, unfortunately this did not prove successful. After the death of Iraga in March 2021, the breed registrar made a timely suggestion: in order to strengthen Europe's koala population, Sydney should make a short visit to Duisburg Zoo in order to mate with their experienced 12-year-old male koala, Irwin. Irwin has already fathered five joeys. He was born in Adelaide Zoo in Australia, and his Australian bloodline is extremely valuable for European koala breeding. And so, on 26 November, Sydney set off for the Ruhr. Our section head Olaf Lohnitz accompanied Sydney on her journey and remained in Duisburg for a few days to help her get used to her new surroundings.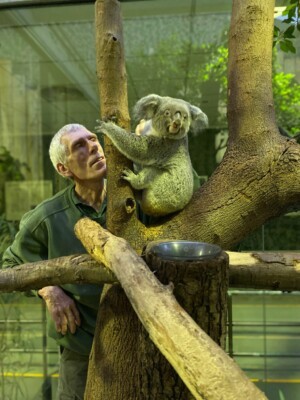 Duisburg Zoo is home to a larger group of koalas, totalling eight overall. Koalas are solitary animals, and will only allow a partner to get close to them when they are ready to mate. So Duisburg's three male koalas are therefore housed separately. The three females and two joeys form a group with a functioning social structure. In order to familiarise Sydney with her new surroundings and the smell of the other koalas, she was initially placed with this group of females. Since she was used to being in a quiet individual enclosure in Dresden, she was initially overwhelmed by the large group, Olaf Lohnitz reports, and declined her food.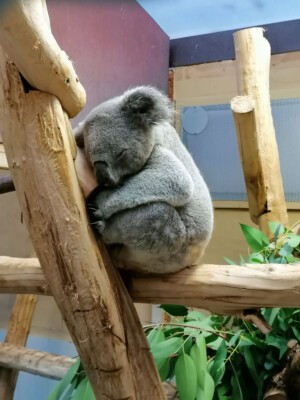 However, her timidity subsided as soon as she was placed in an individual enclosure and she began to eat again. The very next day, she explored the empty enclosure of male koala Irwin and picked up his scent. Much to Irwin's delight; when he returned to his enclosure, he showed a lot of interest in Sydney. She was sending him clear signals, too. Their first encounter is leading us to hope that Sydney will be carrying a joey in her pouch when she returns in January / February 2022. Baby koalas are born around 33 days after conception, are less than 3 cm long, and climb into their mother's pouch, where they latch on to her teat. It would be at this point that Sydney could be transported back to Dresden again. It then takes around six months for the joey to leave its mother's pouch. So let's all keep our fingers crossed that we'll have a healthy koala joey for our visitors to meet in July.