Inventory of the animals at the zoo
Animal news | 11 January 2023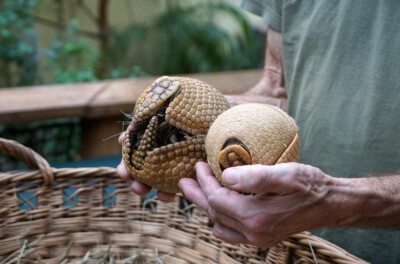 At the turn of the year, all the animals at Dresden Zoo were counted and compared with the stock records. For most animal species, the tally is a manageable number. The African elephants, giraffes and lions are easy to count, whereas this is more difficult with the bird population in the tundra aviary or the Etruscan shrews in The Underground Zoo. The figures for the 2022 animal inventory are now available: As of 31 December 2022, Dresden Zoo was home to a total of 59 mammal, 78 bird, 24 reptile, 6 amphibian, 20 fish and 17 invertebrate species. The total of 204 animal species comprised a population of 1,070 individual animals. The biggest change occurred in the stock of fish and reptiles, which saw a 50 per cent drop in fish species and a 30 per cent drop in reptile species due to the closure of the terrarium last October. The bird and mammal population remained stable. With regard to mammals, the zoo is expecting an increase in the variety of species due to the opening of the new orangutan house, as new species such as binturongs and smooth otters will also be housed here.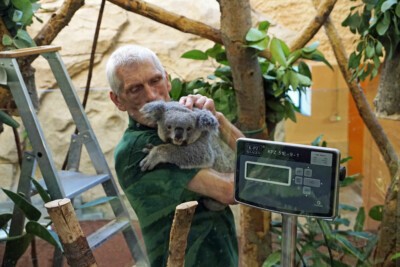 Key breeding successes were achieved last year with lowland nyalas, long-tailed gorals and Northern hawk-owls, among others. The first successful offspring of the great white pelicans was a very positive development, as was a record litter of naked mole-rats, in which 22 young animals were born. This year, the zoo is hoping there will be offspring from the bat-eared foxes and North American porcupines. There is also a good chance that the koalas will welcome a joey. A new female koala, Eerin, arrived from Duisburg Zoo in December 2022 and the intention is for her to have offspring here with Mullaya.
From an economic perspective, the year was marked by the impacts of the coronavirus pandemic and Russia's war of aggression against Ukraine. Despite these adversities, 756,000 visitors came to the zoo and important projects continued to move forwards. One example is a walk-in enclosure for red kangaroos, which was completed in October. Visible progress was also made with the construction of the new orangutan house. The topping-out ceremony for the largest building project in the zoo's history so far was celebrated in November, offering a first impression of its dimensions. The orangutan house is designed to be equally attractive for animals and humans and will serve as another milestone on the path to tangible species conservation.
The zoo's dedication to species conservation is not limited to within the zoo grounds. The introduction of the Conservation Euro in December 2018 also extended its commitment to include regional and global field projects. A total of 1,157,460 euros in donations has been collected since the introduction of the Conservation Euro, with 288,013 euros of this being received in 2022 alone. The entirety of the funds will go towards thirteen field projects.