Groundbreaking ceremony for the new orang-utan house
Animal news | 25 April 2022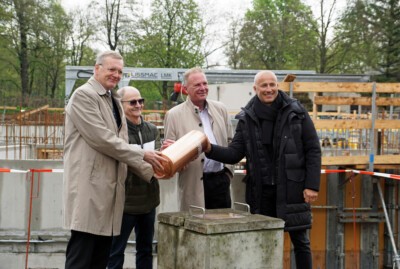 "Thank you very much and best of luck," declared Detlef Sittel, chairman of the Dresden Zoo Supervisory Board and First Mayor of the City of Dresden, as the foundation stone was laid for the construction of the orangutan house today. The chairman of the zoo supervisory board was thanking the staff of Dresden Zoo for their tenacity and perseverance, the Friends of Dresden Zoo Association for their generous financial support of €650,000, and the architectural firm Heinle, Wischer und Partner, whose creative flair produced some modern and attractive architecture even in a listed area. However, the greatest thanks from Detlef Sittel and zoo director Karl-Heinz Ukena was reserved for the people of Dresden and Dresden City Council, for their clear commitment to a project that is so dear to all our hearts.
Last summer, work began on the largest construction project the zoo has ever seen in its 160-year history. In the middle of the zoo grounds, covering an area of more than 4,000 m², a modern animal house is being built that is tailored to the needs of the animals. In addition to the orangutans, other fascinating animal species such as binturong, smooth-coated otters and Tonkin leaf monkeys will also be moved into this new accommodation. Plus, the Aldabra giant tortoises are finally getting a winter residence, so they will be visible to visitors all year round.
The construction work is progressing rapidly and minor construction delays have been compensated by bringing forward other work, so that the project remains on schedule. To celebrate today's groundbreaking ceremony, a copper-coloured time capsule was packed with contemporary documents and memorabilia, such as a current blueprint, zoo map leaflets, photos of Dresden's orangutans, a group photo of current zoo employees, a coin set, and the day's newspapers ‒ the capsule will then be sunk into the floor slab for the ground floor.