Giant tortoises return to their summer residence
Animal news | 12 May 2022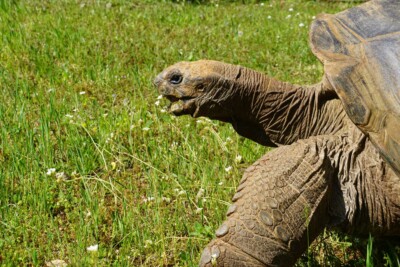 Our three Aldabra giant tortoises moved back into their outdoor enclosure today. Hugo II, Hugo III and Hugo IV were chauffeured to their summer residence in a zoo vehicle, but covered the last few metres under their own steam as keepers and visitors watched on. These tropical reptiles need temperatures of between 20 and 25°C, which is why they live in an indoor enclosure that is not visible to visitors during the colder months of the year, from around the end of September. But now temperatures are consistently high enough to welcome our visitor favourites back to their enclosure opposite the tundra aviary.
This spacious outdoor area not only provides our three Hugos with a rich supply of food, it also gives them much more space to roam around in. The enclosure also has both shady and sunny spots and a small pool. A heated barn protects them against cooler night-time temperatures, but it is not designed for permanent indoor residence. So we're creating a new indoor and outdoor enclosure for the giant tortoises in the new orangutan house. The foundation stone for the new house was laid in April ‒ we plan to complete it and relocate the animals in autumn 2023.
Before moving the Hugos to their summer residence, the keepers took the opportunity to weigh them. Hugo IV tipped the scales at an impressive 219 kilograms, and was therefore the slowest to complete the short walk to the summer meadow. While Hugo II and III nibbled the fresh grass, section manager Michael Hoffmann waited patiently for Hugo IV to take his final step into the enclosure.