Extension of the elephant enclosure completed
Animal news | 13 August 2021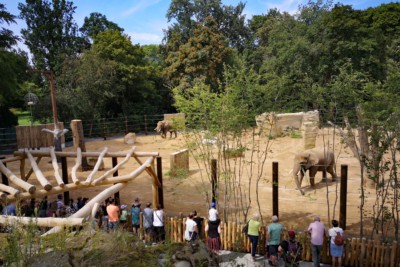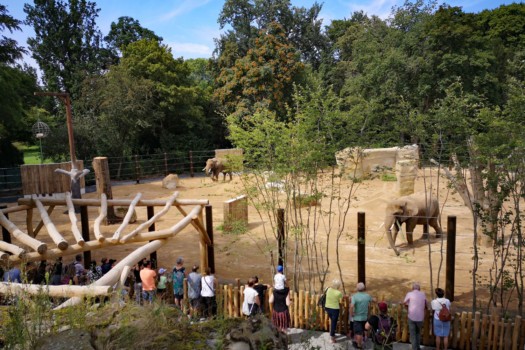 Once the interim hall where our elephants were housed during renovations of the Africa House was dismantled, the second construction phase of the outdoor elephant enclosure could commence. Since early May, an area of approx. 1,400 square metres between the elephant pool and the lion enclosure has been under reconstruction. It gives our four elephants Drumbo, Sawu, Mogli and Tonga just under 3,000 square metres of outdoor space – far more than is specified in the guidelines for elephant-keeping.
First of all, a depth of half a metre was dug out of the entire area and filled with gravel. A soft sand floor keeps the elephants busy, whilst also providing considerably more comfort. Only the concrete foundation of the interim hall was retained in order to give the elephants a solid base to tread on, for a little bit of variety. A few concrete partition walls have also been left standing, but made to look like sandstone. The elephants can use them for shade and also to have a good rub. Three more deadwood "scratching trees" and an artificial tree with a food ball have also been set up. Scratching is as much a part of an elephant's skincare routine as rolling around in mud! For this reason, we have also enlarged the existing mud pool in the old outdoor enclosure so that our elephants can continue to protect their skin from pesky insects. The finishing touches of the new enclosure are a drinking trough and a sandstone pyramid.
For the keepers, a 180 m long road has been built on the edge of the enclosure along the outer fence of the zoo, by the Großer Garten park. Feeding troughs have been installed along the route, which can be filled from the outside. The keepers therefore don't have to enter the outdoor enclosure or spend lots of time stabling the animals. The two enclosures can be separated by an automatic sliding gate, which adds flexibility in caring for our herd of elephants.
Reconstruction facts:
Total area of outdoor elephant enclosure: 3,000 m²
Costs: €750,000 – We were within budget and worked largely with regional building firms.
Construction time: May to August 2021
100 tonnes soil replaced
51 driven piles, 6 m long, were used
875 m steel cable (16 mm thick) was used as an external enclosure boundary