Construction update on the Orangutan House
Bauprojekte | 9 May 2023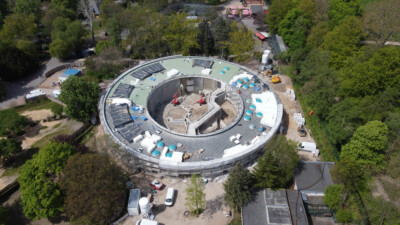 A look at the construction site of the new orangutan house shows that the shell of the building's inner courtyard was completed during the winter. Despite poor weather interrupting proceedings several times, the structural work for the visitor path, the water basin for the otters and the foundations for the climbing trees and pylons are now complete. From January to March, the substructure for the shotcrete was put in place on the walls in the orangutans' future outdoor area.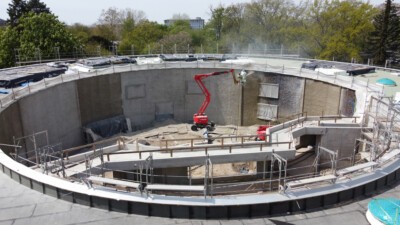 After Easter, it was then possible to start applying the shotcrete, which is still to be painted as part of the enclosure design.
Work on the roof insulation and waterproofing is also currently under way. All the circular skylights have now been installed, and the membrane foil roofs for the large angular windows will follow soon.
Thermal insulation and rendering work has also begun on the building's façade. Plasterwork depicting stylised tree structures and climbing orangutans will be applied to the 14 cm thick insulation panels.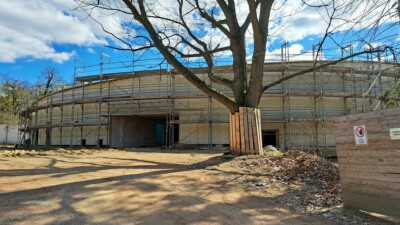 Inside the house, building services such as ventilation, heating, sanitation and electrical engineering have been going in since mid-December. While this was happening, the basement and the interior enclosures were plastered, and the screed was laid on the ground and upper floors.
The next big milestone on our site will be the erection of the five pylons in May; these will support the netting spanning the outdoor orangutan enclosure. New photos and information will follow in the next construction update.