Bactrian camel cow Inka gives birth
Animal news | 13 July 2023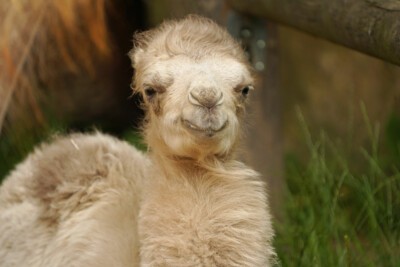 After a gestation period of about 13 months, Inka delivered a bouncing baby girl on 7 July 2023. Due to the infant's relatively large size, the cow needed a little assistance from our vet during the birth, who lent a hand with the last part of the delivery. With her impressive birth weight of 62 kg, the young animal, named Farah, got a great start in life.
Young Bactrian camels can stand and walk just a few hours after being born. Mother and calf spent the first few days in the stable with a front enclosure to strengthen their bond and to make sure Farah was drinking properly.
Our Bactrian camel male, Samuel, will meet his youngest offspring for the first time on Friday; up till now, he has only been able to see and smell Farah through a barrier. As he is a very sociable male, the family reunion is sure to go off without a hitch.