Autumn holidays at the zoo
Animal news | 11 October 2021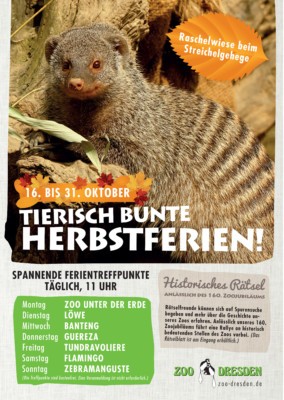 The season of vibrant colour brings with it an equally colourful holiday programme at Dresden zoo. Our young zoo visitors can expect exciting events every day at 11 am from 16 to 31 October.
Experience the following events:
| | |
| --- | --- |
| Monday | The Underground Zoo |
| Tuesday | Lions |
| Wednesday | Banteng |
| Thursday | Guereza |
| Friday | Tundra aviary |
| Saturday | Flamingos |
| Sunday | Banded mongoose |
Events are free of charge. No advance booking necessary.
If you love a good puzzle, you'll jump at the chance to sniff out more about the history of our zoo. To celebrate our 160th anniversary, we've organised a treasure hunt trail that takes you to some of the most historically significant parts of the zoo.
In addition, young explorers can kick about to their heart's content in the leaves of our "rustling meadow" area at the petting zoo. Jump in and learn some fascinating facts about local tree species – something every lover of autumn can enjoy.