New arrival in the banteng herd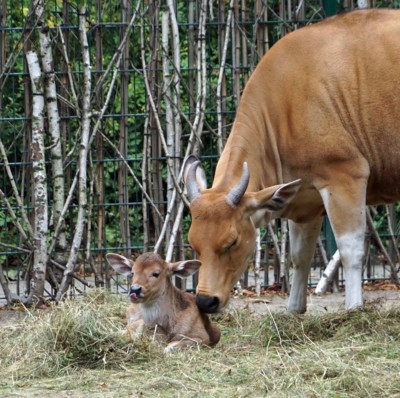 Once again we are pleased to announce a new arrival among our herd of Javan banteng. The newborn was discovered next to mother Zensi on Monday morning (16 August 2021), in the outdoor enclosure. Little Doug, as he has been named, is strong and spirited. Now six-strong, our banteng herd consists of dad Kingsley, the two cows Zensi & Ilonka, the two calves born in 2020, Cosima and Campino, and of course the youngest member of the family, Doug.
Dresden Zoo is home to Javan banteng, the largest of the three sub-species of banteng. Females and youngsters have a chestnut-coloured or reddish coat, while adult bulls are chocolate-brown. The population is endangered due to habitat loss, cross-breeding with domestic cattle and Bali cattle, and also as a result of diseases transmitted by domestic cattle. It is estimated that only 5,000 to 8,000 Javan banteng are left in existence.